Dan + Shay
w/ The Band CAMINO and Ingrid Andress
Event Info
GRAMMY-winning duo Dan + Shay are bringing The (Arena) Tour to Nationide Arena on March 8 w/ The Band CAMINO and Ingrid Andress.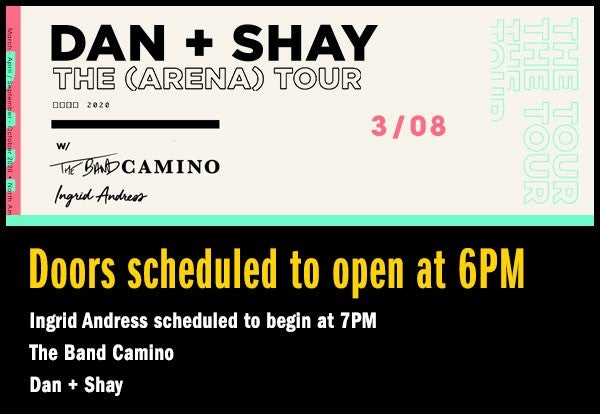 Coronavirus Disease COVID-19 Alert
We are monitoring the impact of COVID-19 (coronavirus) in our community and are in continual contact with local, state and federal partners. Our top priority is always the health and safety of guests, fans and staff.
All events are proceeding as planned.
We expect staff who are feeling ill to stay home and request that persons feeling ill not attend events.
Recommendations on how you can protect yourself:
Be vigilant with regard to routine hygiene etiquette, covering your mouth and nose with your elbow or tissue when sneezing or coughing;
Wash hands regularly and using an alcohol rub after coughing or sneezing;
At the venue, we are mindful of the need to help keep fans safe by:
Cleaning and sanitizing all venues thoroughly with a variety of products after each event, including but not limited to restrooms, concessions stands and floors;
Providing additional hand sanitizer dispensers throughout all facilities;
Increased detailed cleaning throughout all venues on event days and "dark" days to clean and disinfect frequently touched items and surfaces.
CLICK HERE for Ohio Department of Health (ODH) Guidelines
Ticket Information
We are partnering with Ticketmaster to address fan questions regarding the cancellation and rescheduling of events.
Visit the TICKETMASTER HELP CENTER for details. Check back regularly for information and status updates.
The Big Lots! Box Office is temporarily closed. CLICK HERE for info if you purchased tickets at the Box Office.