Mercy Me
with Crowder and Micah Tyler
Event Info
It continues to be a landmark season for the multi-platinum selling MercyMe. A major motion picture based on the life of frontman Bart Millard who wrote the mega-hit song "I Can Only Imagine" after the loss of his father opened at a remarkable No. 3 at the box office on Mar. 16, 2018 (Lionsgate, Roadside Attractions). Carrying the same name, Millard's first memoir also released this year followed by the unveiling of I Can Only Imagine – The Very Best of MercyMe. MercyMe was named Top Christian Artist at the 2018 Billboard Music Awards, scored their sixth GRAMMY® nomination, was the top winner at the fan-fueled K-LOVE Fan Awards including a win for Artist of the Year and won their seventh American Music Award. The group was the 2017 GMA Dove Award Winner for Artist of The Year.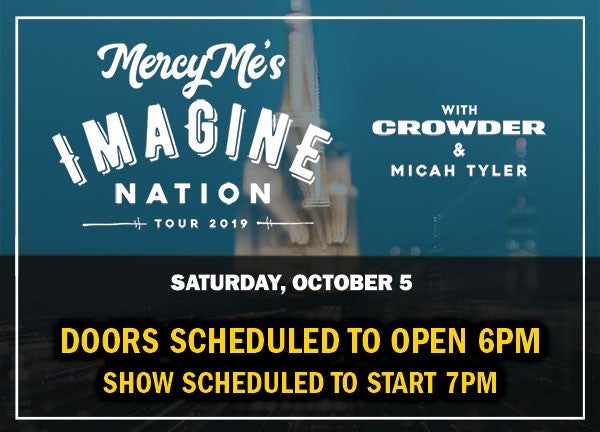 Ticket Information
We are partnering with Ticketmaster to address fan questions regarding the cancellation and rescheduling of events.
Visit the TICKETMASTER HELP CENTER for details. Check back regularly for information and status updates.
The Big Lots! Box Office is temporarily closed. CLICK HERE for info if you purchased tickets at the Box Office.